Located in West Palm Beach and Atlanta
---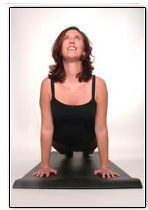 Join our e-mail list
Enter your e-mail below

For information regarding yoga therapy techniques, special
offers and upcoming events.
Become a fan

SEE LIVING LARGE IN

"The Yoga Therapist Will See You Now"

"The Ground Floor: Strong and
supple pelvic floor muscles
help you stay high and dry"

"21 under 40: These talented young teachers are shaping the future of yoga"

"Watch Your Back: When it comes to back pain, this gentle approach is best"

"Compatibility of Yoga
and Physical Therapy"

UPCOMING EVENTS
Evolution: Asia Yoga Confrence:
June 13 - 16, 2019
Hong Kong, CHINA
Asia's leading yoga and wellness conference of its kind, bringing together renowned presenters from across the world. Passionately dedicated to serving and offering access to the best yoga and global teachers for the region.
REGISTER
LEARN MORE
Currently Emily Large is seeing clients for private consultation by appointment.