Located in West Palm Beach and Atlanta
---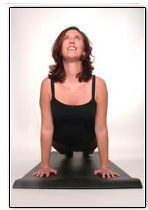 Join our e-mail list
Enter your e-mail below

For information regarding yoga therapy techniques, special
offers and upcoming events.
Become a fan

SEE LIVING LARGE IN

"The Yoga Therapist Will See You Now"

"The Ground Floor: Strong and
supple pelvic floor muscles
help you stay high and dry"

"21 under 40: These talented young teachers are shaping the future of yoga"

"Watch Your Back: When it comes to back pain, this gentle approach is best"

"Compatibility of Yoga
and Physical Therapy"

UPCOMING EVENTS
New ongoing therapeutic group yoga class: Bye Bye Boo Boo Yoga, Bindu Yoga Studio, 5808 S. Dixie Hwy, West Palm Beach, FL 33405, Mondays, 12 to1:30 p.m. Get more info at www.bindu-studio.com.
Sytar 2016: June 9-12, 2016 Reston, VA. CIC Session Presentation: "Teaching Pearls I've Learned from Either Side of the Bridge". http://www.iayt.org/?page=2016Overview
OMEGA: July 22 - July 24, 2016 Rhinebeck, NY. Yoga for Lower Back, Sacrum, &Hip Pain. The workshop is part of our Yoga Therapy Initiative http://www.eomega.org/workshops/yoga-for-lower-back-sacrum-hip-pain?source=fweb.large.ws
Currently Emily Large is seeing clients for private consultation by appointment.