Located in West Palm Beach and Atlanta
---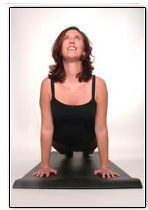 Join our e-mail list
Enter your e-mail below

For information regarding yoga therapy techniques, special
offers and upcoming events.
Become a fan

SEE LIVING LARGE IN

"The Yoga Therapist Will See You Now"

"The Ground Floor: Strong and
supple pelvic floor muscles
help you stay high and dry"

"21 under 40: These talented young teachers are shaping the future of yoga"

"Watch Your Back: When it comes to back pain, this gentle approach is best"

"Compatibility of Yoga
and Physical Therapy"

UPCOMING EVENTS
New ongoing therapeutic group yoga class: Bye Bye Boo Boo Yoga, Bindu Yoga Studio, 5808 S. Dixie Hwy, West Palm Beach, FL 33405, Mondays, 12 to1:30 p.m. Get more info at www.bindu-studio.com.
OMEGA:
September 14 - 16, 2018
Rhinebeck, NY
Overcoming Pain With Yoga Therapy. Discover ways to safely apply the proven principles of yoga therapy to reduce painful conditions and optimize health for the upper back, neck, and shoulders.
REGISTER
LEARN MORE
Currently Emily Large is seeing clients for private consultation by appointment.